One of the best hotels in Ifaty, this comfortable and well positioned accommodation is both near the spiny forest and good beaches. The hotel overlooks the Mozambique Channel and is ideally located for watching sunsets over the sea. Accommodation is 19 villas or the 22 standard rooms, all built using local materials with traditional Malagasy interior designs they all offer comfortable beds with mosquito nets, TVs and private bathrooms with 24 hour electricity. The rooms and villas are scattered throughout the gardens which feature many beautiful flowering plants.
There is a large swimming pool with deck chairs for relaxing when the tide is out and it is not suitable for swimming from the beach. The main building has a nice restaurant serving plenty of fresh seafood and tropical fruit and a variety of international dishes. Meals can be enjoyed in both the restaurant and outside on the patio area for al fresco dining with a sea breeze. There is also a friendly bar, small library and free Wi-Fi throughout the main building.
Ifaty has a number of diving operations where both diving and snorkelling trips can be arranged. For example there is an excellent shark dive at 31 metres on the Grand Recife and excursions to the Rose Garden and south pass are excellent for snorkelers.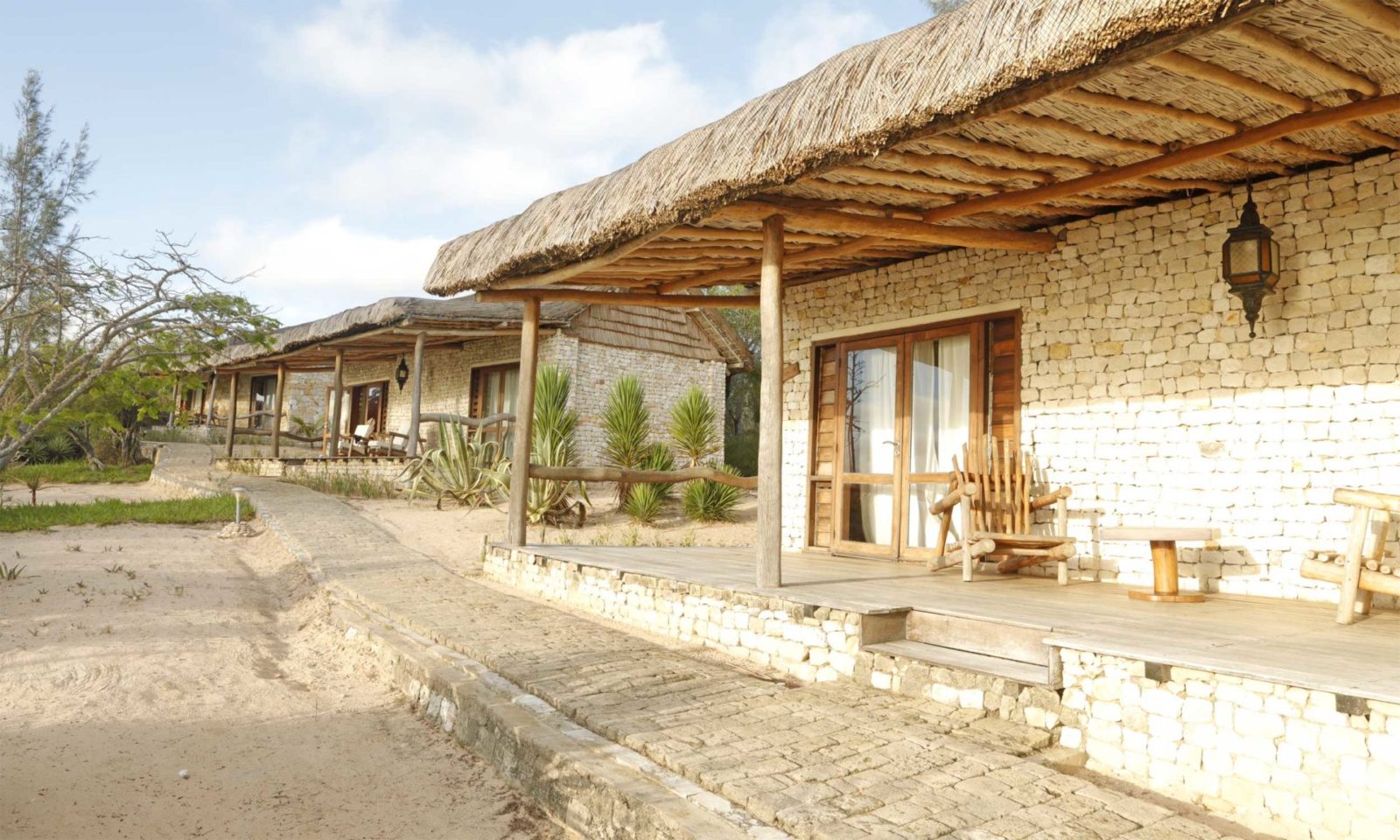 Facilities
Rooms are all ensuite with TV and air-conditioning. Other facilities include a restaurant, bar and Wi-Fi and swimming pool on site too.
Local Wildlife
The local spiny forest supports many endemic bird species such as sub-desert mesite, Lafresnaye's, red-shouldered and sickle-billed vangas, Archbold's newtonia, Madagascar nightjar, banded kestrel and the spectacular long-tailed ground roller are all possible to see. While mammals include the localised black-shouldered sportive lemur, gray and gray-brown mouse lemurs and lesser hedgehog tenrecs. While reptiles include the impressive Dumeril's ground boa, three-eyed lizard and warty chameleon. ,
Optional Activities
Excursions on offer include visits to the local spiny forest both during the mornings for birdlife and in the evening for nocturnal wildlife. There are also many dive operators that can arrange snorkelling and scuba diving and also whale watching between July and September when humpback whales are present. Watersports can also be arranged.
Number of rooms
41
Air Conditioning
Yes
Swimming Pool
Yes
The beach may not always be suitable for swimming except at high tide. At low tide it is good for observing rock pool life however.
If you have any queries about this accommodation please feel free to call me directly on +44 (0)1803 866965 or...