Satpura is one of India's lesser known Tiger Reserves, located in the Madhya Pradesh State to the south of the city of Bhopal. It covers 524km of undulating hills, peaceful river valleys, grasslands and dense teak and Sal forests.
(Nature walks and picnics in the wild are a highlight of Satpura Tiger Reserve)
Strangely what makes Satpura so different to other tiger reserves in central India is that one of the main reasons to visit this beautiful park is that you are actually unlikely to see tigers. Although there is a good tiger population within the park, they tend to remain in the more remote and inaccessible areas during the day. Due to this record of lower tiger sightings, Satpura is refreshingly free from large numbers of visitors and is only serviced by a handful of excellent lodges making it an excellent choice for a quieter and more rounded wildlife experience. This makes Satpura a fantastic location to finish a holiday at after perhaps first visiting a busier tiger reserve such as Bandhavgarh, Kanha, Tadoba or Ranthambore.
Tigers aside, if you want to encounter much of central India's other charismatic mammal fauna you can't do much better than Satpura. The notoriously elusive sloth bear, Indian leopard and impressive guar (Indian bison) are all surprisingly frequent sightings here unlike many of the other reserves with regular tiger sightings. Many guides believe that Satpura is indeed the best reserve in India to observe sloth bears which are often spotted in the buffer zones and areas close to the Reni Pani Jungle Lodge. Leopards also do well here, due to the lack of competition from tigers and leopard sightings have been very reliable in recent years on both day and night drives. There are also good populations of guar; India's magnificent bison and rarities such as the graceful blackbuck, chousingha (four-horned antelope), dhole (wild dog) and the rusty spotted cat (smallest wild cat in the world) can also be seen with more perseverance and luck.
(Leopard on a dusk game drive)
(The guar or Indian bison in Satpura Tiger Reserve)
Another aspect that makes Satpura unique is the range of different activities available here which include not just regular game drives but also nature and bird walks on foot, canoeing and boat safaris, nocturnal night drives and visits to local villages. The Reni Pani Jungle Lodge is perhaps the most noted for these different excursions and also offers overnight camping expeditions to explore remoter areas with nights under the stars in semi-permanent camps and the Churna Forest Rest Camp. Situated within the Bori Sanctuary, a remote and little visited part of Satpura Tiger Reserve the Churna Rest House can be used as a base for exploration of an area rich in both prey and predators. Excursions to this area regularly provide sightings (though animals are often shy) of leopards, sloth bears and even tigers with almost certainly no other visitors around.
(Satpura is one of the best locations in the world to see sloth bears)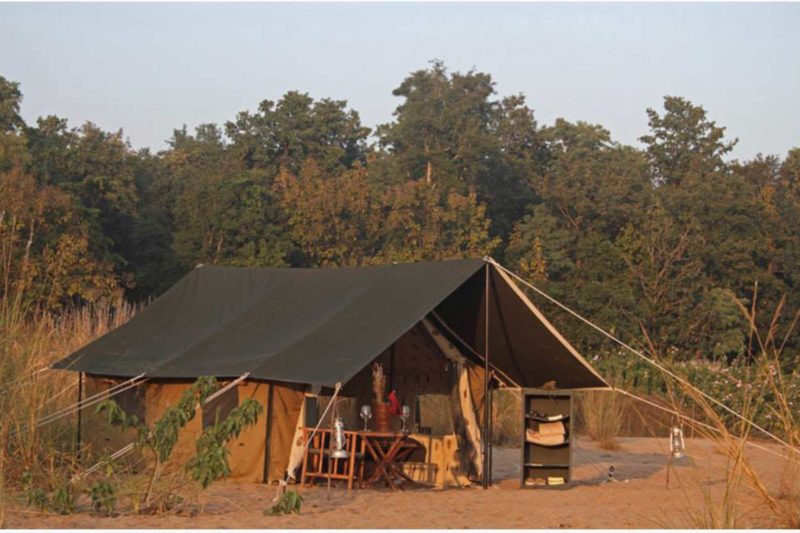 (Overnight camping exepedition with Reni Pani Jungle Lodge)
We would recommend a stay of at least three nights in Satpura and ideally four or more if you wanted to visit Churna or experience the thrill of overnight camping in the forest.
For visiting Satpura our favourite lodge is the Reni Pani Jungle Lodge, but there are also other excellent lodges in different parts of the reserve such as the Forsyth Lodge and the Denwa Backwaters Escape. Reni Pani's name derives from the local tribal village with which it is closely connected, and the lodge has been thoughtfully designed to offer comfortable accommodation in a remote setting.
(The welcome swimming pool at Reni Pani Jungle Lodge)
(The living area of the main lodge at Reni Pani Jungle Lodge)
The lodge sets out to offer something different to its guests with a varied programme of activities and provides outstanding naturalist guides to help make the most of each activity. What sets Reni Pani apart is also its focus making each guest's visit a personal one and the superb guides will try to customise your stay and activities to make it as relaxing or active as you like. Satpura can therefore be the perfect spot for both some relaxing downtime and a thrilling and intimate wildlife experience away from the beaten track.