A vast volcanic archipelago stretching nearly 5000km from east to west and comprising more than 17,000 islands, few other nations fit our company name as perfectly as Indonesia.
Part of the famous Coral Triangle, the reefs here are among the world's most diverse and pristine.  Spanning the Wallace Line – the continental divide between Asia and Australasia named after Alfred Russell Wallace, the co-discoverer of the theory of evolution whose ideas germinated there – Indonesia's rainforests have the highest number of mammal species anywhere and an incredible diversity of insects, reptiles and birds.
Our first visit to Indonesia was 30 years ago and this island nation is now proving to be a firm favourite with our clients.  Here we give our top 10 Indonesia wildlife and cultural highlights that make this island nation so special to lovers of natural history.
1: SUMATRA
Roughly twice the size of the UK, this vast island offers a huge range of forest species.  Nowhere else in the world can you find tigers, orang-utans, rhinos, elephants, tapirs and clouded leopards all living in the same forest.  Sightings can be a challenge but Way Kambas in the far south offers your best chances.
2: WEST PAPUA
Occupying the western half of the island of New Guinea and home to birds of paradise, remote tribes and the most biologically diverse coral reefs in the world, perhaps the main highlight of West Papua is Raja Ampat, a Switzerland-sized archipelago of 600-plus coral fringed islands offering stunning marine life, resplendent birds of paradise and a fascinating geology.
3: BORNEO (KALIMANTAN)
Borneo is the third largest island in the world and Indonesia holds the major share. Orang-utans are the stars of the show but you can also see proboscis monkeys, hornbills and myriad other bird species. Take an unforgettable river trip through the Tanjung Puting National Park to the famous Camp Leaky research station.
4: SULAWESI
Famed culturally for its colourful hill tribes and lavish funerals, the north of Sulawesi also has world-class diving plus the Tangkoko National Park, home to impossibly cute tarsiers, endemic Sulawesi crested (black) macaques and hornbills, plus Australasian species including the bear cuscus and megapode birds.
5: KOMODO
It's not all about the dragons, although those are the main draw for visitors to Komodo and Rinca.  This is also a marine national park offering exceptional snorkelling and diving with healthy coral, manta rays and large shoals of fish.  Terrestrial highlights include a large fruit bat colony, fish eagles, sulphur-crested cockatoos and two species of oriole.
6: BOROBUDUR
Standing for over a millennium, this is Asia's largest and most impressive Buddhist temple and is surrounded by lush rice terraces and beautiful farmland.  Built over nine tiers, the site contains 2,672 delicately carved panels and over 500 statues of Buddha along its three miles of walkway. You can spend a whole day here and not get close to seeing them all.
7: VOLCANOES
With over 150 volcanoes (127 still active) you are never far from one in Indonesia and they form the backdrop of many a spectacular landscape photograph.  A number of volcanoes can be climbed before dawn to witness magnificent sunrises.  Both in Java, two of the best are Mt Bromo and Mt Ijen with its crater lake and fuming sulphur mine.
8: BALI
The epicentre of Indonesian tourism, Bali can be pretty busy in places. However, you don't have to travel too far to find a quieter spot.  Perhaps stay at a boutique retreat in the inland rice terraces; discover the sleepy island of Nusa Lembongan, or the West Bali National Park, home to the endangered Bali starling and offering excellent snorkelling around beautiful Menjangan Island.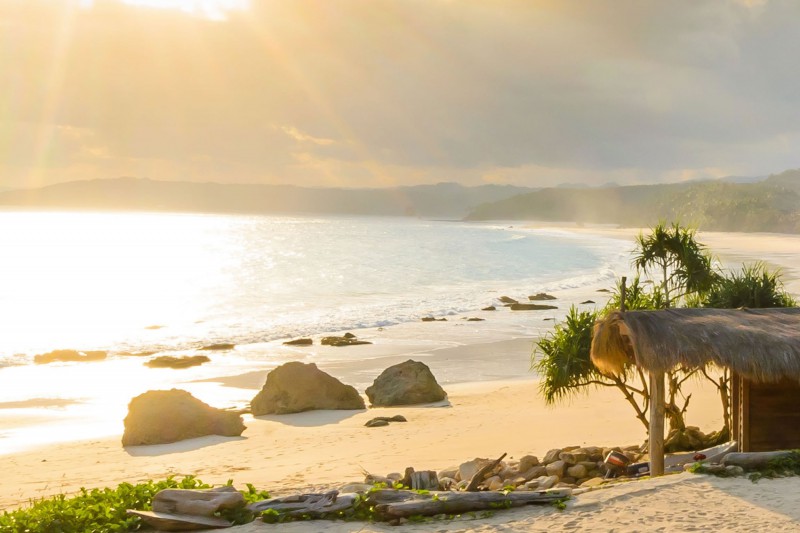 9: SUMBA ISLAND
Just a short flight from Bali, this wonderfully unspoilt island has sleepy villages, quiet coconut groves and wild sandy beaches.  Surviving patches of dry deciduous and semi-evergreen forests support almost 200 species of birds including seven endemic and range-restricted species.
10: KELIMUTU
Located in the highlands of Flores, the area is home to small villages and dry tropical forests. Seek out the rare bare-throated whistler for its exquisite, melodic song, then hike to the three crater lakes which famously change colour due to unknown geochemical processes.  They usually go through a pallet of greens, blues and turquoise but occasionally turn milky white or a dramatic blood red.
Click here to see all our Indonesia wildlife holidays and natural history tours.