If you've got kids, the idea of organizing an exotic wildlife watching holiday for them yet alone tagging along on one of the many guided experiential trips may seem like a non-starter. For a start it's hard work! and secondly families with children come with a degree of chaos, noise and mess.
The idea of signing your family up to an off-the-peg wildlife holiday with others who are not in the same boat as you, or have 'done their time' already just sounds like a bad idea. If not selfish then certainly something that any self-conscious parent would wrack themselves with guilt over and this curse gets further amplified when your group are trying to see wildlife – and that defeats the whole object of the game. It's supposed to be a holiday.
When myself and Ceri (my wife) looked into it, it seemed there wasn't anybody running family friendly trips, certainly not one led by a family! So with some encouragement from a few like-minded families keen to join us we had a little chat with Reef & Rainforest and they agreed to give it a go, and you know what, it kind of works. The kids, interact, play, develop a social life and make friends, the adults do the same and occasionally just occasionally things take care of themselves so you probably actually get more 'grown-up time' than if you were attempting the expedition as a single family.
Some of our past guests even pointed out that it's so nice, to sit back and be told what the itinerary for the day is rather than have to plan it all yourself. You can sit back and enjoy quality family time, knowing someone else has done all the hard work of organising it for you and that is, I know a very rare thing for a parent. From mine and Ceri's point of view – when we see families, and especially young folk engaging with nature, having their first encounters with say a tarantula or Boa Constrictor – we get to see uncontaminated curiosity and joy. With kids on board a wildlife watching break takes on a new energy, the sense of discovery is with you continuously. There is also every chance that you may be changing the world, a tiny bit for the better. Who knows what path some of these experiences will send these young individuals on. So if you're ready for a family friendly, wildlife packed adventure then read on.
This year, 2016 we are doing it again, and the Baker's (Myself, Ceri and my 9 year old daughter Elvie) are going back to Belize and hopefully we'll be taking you along with us. We like Belize, a lot. We've guided a family trip here before and it was a very special experience. Belize is a very safe place, it's got a lovely friendly feel to it. With a diverse selection of habitats from dense primary rainforest to the second largest barrier reef in the world it also delivers a rich diversity of neotropical species. The company we work with is called Reef & Rainforest and this trip lives up to this title very well – we do however do it the other way around, so it should be Rainforest and Reef. We start off in the interior and get all the sweating and the puffing out of the way first.
We start off staying at the wonderful Pooks Hill, a very comfortable rainforest lodge, and this one really is right in the rainforest! As you approach the lodges, the track gets narrower and narrower until, the forest is brushing the wings and pinging off the wing mirrors and at times if feels like it's trying to climb into the vehicle itself. Then suddenly, the dark green forest interior with all it's subdued hues thins out and gives way to light. You've arrived. Embedded within it's own private nature reserve and bordered by the Tapir Mountain national park all 6,700 acres of it. With this mixture of mature forest (not logged since the Mayan empire) forest edge, gardens and the crystal clear waters of the Roaring river it is a destination in itself.
For those who like feathers – it boasts a bird list of over 300 species. The place abounds with life in enthusiastic tropical profusion, which is matched only by the enthusiasm of the staff and the manager Vicky. Within minutes of arriving last time, we had Toucans and several Parrot species, a beautiful Red-rumped Tarantula (there are several of this handsome, large, but harmless spiders living in holes in the lawn) as well as countless hummingbirds.
Now, this is a wildlife holiday and you will see lot's of it – guaranteed. And while we stand a good chance of seeing plenty of the more obvious and charismatic players of a Belizian rainforest eco-system – Black Howler Monkeys, Scarlet Macaws and Keel-Billed Toucans among their number the majority of species belong to the really fascinating world of insects, arachnids, reptiles and amphibians; and of course all of these creatures have interesting and rarely told stories to tell.
This microcosm and of course how it interconnects with the species that these sorts of trips are famous for show-casing is my real passion and so expect to see, experience and learn lots from the tiniest, most secretive ant or stick insect to the loudest Howler Monkey. Of course we'll be fitting in plenty of adventures and a bit of culture too. The latter starts on the day we check in at Pooks hill, as the lodge itself is built on and around an ancient Mayan plaza – the flat centre of which is a fabulous place for an evening game of croquet!
Over the course of the days you'll spend here, you can expect to swim or tube in the refreshing water of the roaring river. There are rope swings, but watch out for the little nibblers – small brightly coloured fish, possibly a tertra species which give you a gentle pedicure and exfoliation, although occasionally they get a bit over enthusiastic – not painful but enough to keep you moving around in the water! We'll do bird watches, forest walks, run a light trap at night – an experience that brings into close proximity some of the beautiful moths and other forest denizens of the night. Night walks are also on the cards and in the tropics these tend to have to potential for some pretty cool surprises – we had little Giant Musk turtle and Kinkajou on the last one. We'll leave base a couple of times too – we'll do some zip-lining – always a good family bonding experience this one and for parents this can be the moment when you let go (literally) of your children.
Elvie was more confident than me on this last time and I found myself, feeling obliged to step out of my own comfort zone and go screaming off into the canopy in pursuit of a squealing, beaming 7 year old! There are a couple of opportunities to do some Kayaking – which is a great family, team building exercise, it's another really nice way too get a different perspective on the forest, get close to wildlife and provides a welcoming cooling off in the heat of the day. The other time we'll get in Kayaks is really rather special and something I've never had the opportunity to do anywhere else in the world and that is to go paddling into a cave system – it's pretty exciting and we'll almost certainly see bats and a human skull! No trip to Belize is complete without a trip to one of the spectacular Mayan temples – and we'll spend an afternoon having our minds well and truly boggled my the shear architectural efforts and stone masonry prowess of the ancient Mayan civilisation.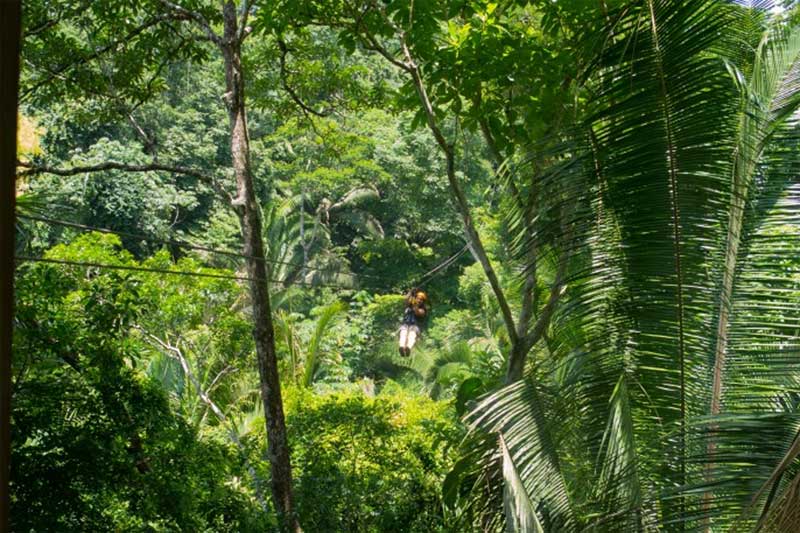 When I asked Elvie which bit of her trip (2 years ago) she remembers the most -it was the snorkeling! She recalls Sharks first (I mean name a child that doesn't want to be able to tell their friends they swam with Sharks!) then there's a pause and then she develops some kind of biodiversity Tourettes and the species she saw while peering beneath the surface just keep coming, Frogfish, Batfish, Turtles, Eagle Ray, Parrot fish, she recalls them all vividly.
This second part of the trip, see's us heading out to the Barrier reef, to a tropical Paradisaical island – all sand, azure water and palm trees. We stay on South Water Caye which is right in the middle of the protected 17,878 acres of South Water Caye Marine Reserve. The Belize Barrier Reef is the second largest barrier reef in the world and I have to say, it is one of the best places I've ever snorkeled (it turns out that Charles darwin thought it remarkable too). The visibility is second to none and the health, colour and growth of the coral in my mind can only be matched by some of the coral reefs I've seen in South East Asia.
If you've never done this sort of thing before, then this is the way to go – even if you're not the strongest swimmer. Elvie was still learning last time and everything she experienced was while wearing an inflatable jacket (don't tell her I said that her 9 year old pride will hate me for ever). She's not really snorkeled before, not unless you count in the bath and the few minutes her head was submerged on a Cornish summer holiday once. But here, with the warmth and clarity of the water, plus the ichthyological idyll that was unfolding beneath, she loved it.
The group even went out for a night time snorkel in a shallow lagoon, just off the beach. Despite some trepidation by some – once submerged and hunting around the lagoon and seeing the marine night-life in all it's splendour, this soon vanished. The highlight and something none of the group would ever have imagined doing until they were here and that was sitting in the water, at night and turning all our torches off! A quick wave of a hand through the water and a trail of bio-luminescence was revealed – with seconds everyone was waving their arms about reveling in the ability to create twinkling fairy dust trails. like their favourite Disney princess's – even me. Obviously once we'd got over ourselves I explained the science of what we witnessed too.
All this is right on your doorstep, just meters away from where you are staying on the islands, so it is maximum experience and minimal travel. We do take boat trips out to see a colony of Magnificent Frigate birds, experience some other Snorkeling sites and go looking for the Manatees that inhabit the area. There is so much to see that even under the landing jetty on the island you'll see things that anywhere else in the world would make it a destination in itself. In less than 40cm of water all of our group watched Seahorses dancing, the totally weird Batfish, walking across the sand and Reef Octopus fumbling their way over the coral, frisking all the crevices for unsuspecting fish.
Which ever way you look at it – from the forest canopy looking down or from the bottom of a sandy lagoon looking up. This family trip to Belize will become a family experience that transcends the concept of a holiday and if my own families memories are anything to go on – it'll not be one that'll ever be forgotten. If you and your family are interested in coming to Belize with Ceri, Elvie and myself then have a look here for more details – I'm looking forward to meeting you in the airport departure lounge as much as they are.
Nick's tour: Belize for Adventurous Families with Nick Baker
See the video of the last trip: